AUTOMATIC ENERGY SAVINGS FOR BUSINESS OWNERS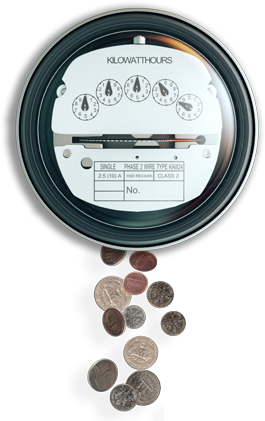 We Know Where You're Coming From.You put your heart and soul into your business, and energy costs can range up to 15%. That's a significant cost of doing business. We also know that any amount of money saved or time earned can have tremendous benefits to you. Doing business in a deregulated energy market comes with a choice, but that choice includes hours of research and new and unforeseen responsibilities that are often inefficient and ineffective.
How does
it all work?
AutoPilot is a service we are able to offer because of our sister company, Utiliz. Boasting a 25% customer referral rate, Utiliz is the innovative technology platform and licensed energy broker behind our service.

More Time and Peace of Mind.
It takes time to research the energy market, understand and select a plan, and continually monitor and evaluate rates and providers to see if you should renew or switch plans. We developed AutoPilot, an innovative program that automatically saves you time and money on your energy bills every month, so you can focus on what's important: your business, your customers, your employees and your family.
AutoPilot Is Good for Business.
AutoPilot monitors the market, researches the plans, selects and enrolls you in the right plan, and evaluates and switches you automatically if you're not saving money. Whether you own a small or large business, we have a plan designed to fit your size and energy usage.

Bypass the Brokers.
Many companies choose a broker to help them find their energy solutions. However, a broker's standard pricing usually includes a .004-.009 cent fee per kWh that is buried in the monthly commercial rate. Those costs add up, and you're not guaranteed the broker will find the best rates and plan available.

AutoPilot Does the Work for You.
Think of AutoPilot as your very own fully automated financial energy manager. We negotiate with the supplier to get the lowest rate per kWh and we don't bury our fees. We put them up front and center, so you'll know exactly what you're paying for, every month, every renewals term, every time.
SERVING COMMERCIAL CUSTOMERS IN CT, IL, NY, NJ, MA, MD, NH, OH

So far, we've helped thousands of customers save more than $570,000 on their energy costs. And we can help you too.
Email a friend
AutoPilot is smart technology with a relentless customer focus.
We work for you. Our system acts like the smartest retail energy customer in the market, but with the benefits of scale. You get automatic savings year after year with flexible, usage-based pricing for your business.
Something Every Business Owner Should Know
Price certainty does not equal price savings. If the market changes, you want to make sure you're getting rates that will benefit your business now and in the long term. Don't get stuck in a rate just because it's familiar. AutoPilot automatically looks out for your business. With AutoPilot, you'll save between $438 and $3,125 per year. Commercial plans start as low as $11.99 per month or .0025 cents per kWh.
SET IT AND FORGET IT WITH AUTOPILOT.
You don't have to do everything yourself. You don't need a broker. And you don't need to waste time or money.
With AutoPilot you'll reduce operating expenses, save time and be able to focus on your business, enhance your brand with renewable energy solutions, and stay informed with frequent and transparent updates on savings and returns.
| COMMERCIAL | Annual Usage | Est. Annual savings | Monthly Price |
| --- | --- | --- | --- |
| Extra Small Business | 35,001-75,000 kWh | $438-938/year | $11.99 / mo. |
| Small Business | 75,001-125,000 kWh | $939-1,562/year | $24.99 / mo. |
| Medium Business | 125,001-175,000 kWh | $1,563-2,188/year | $39.99 / mo. |
| Large Business | 175,001-250,000 kWh | $2,188-3,125/year | $49.99 / mo. |
| Custom Business | More than 250,000 kWh | Contact us | Contact us |
Guaranteed savings just makes sense.
FREQUENTLY ASKED QUESTIONS
NOT QUITE READY FOR COMMITMENT? THAT'S OKAY.

Get product updates, promotions, stories of changing lives, and lots more!